Stats:
8 weeks
Starting Weight: 155
Weight: 151
Waist @ bellybutton: 31"
Here is my baseline picture at 8 weeks:
Here is the baby at 8 weeks: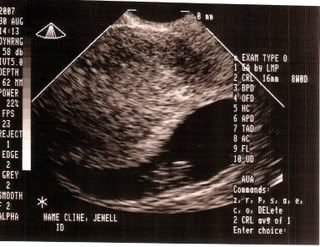 I just found out that I'm pregnant! I had been waking up in the middle of the night for about a week on and off to use the bathroom, which I thought was a little strange. In fact, I can't remember ever getting up in the middle of the night in my entire life. Since I was extremely irregular and didn't even think I had ovulated once in the last 6 months, I didn't connect the dots. Rob and I had just started an exercise program, so I was on the treadmill a lot. One day I started jogging and actually had to stop because my sports bra just wasn't cutting it, if you know what I mean. :) I still really didn't think it was even possible for me to be pregnant, so I still didn't put it together, but there was an inkling in the back of my head. On August 20, 2007, I decided to take a pregnancy test before work, just to get it out of my head that I could be pregnant. I fully expected a negative, so when it came back positive, I was in complete shock! I really just stood there and stared and then read the directions a few times, because I was sure that I was reading it wrong. Then I called Rob into the bathroom and asked him if he was seeing what I saw. We basically both stood there saying 'Oh my God!' It was really exciting.
I then proceded to take 3 tests over 3 days, just to make sure. I still wasn't completely convinced, but on Friday the 24th when my doctor called me back with the blood test results, I finally believed that I was actually pregnant!! My due date is April 9th 2008.