Stats:
20 weeks
Starting weight: 155
Weight: 152
Waist @ Bellybutton: 34
Here is my belly at 20 weeks: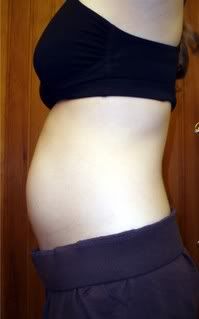 Here is a full photo at 20 weeks:


I'm finally half way there! So my belly has now really popped out. Thanksgiving is this week, and I can't wait. I'm especially looking forward to my dad's oyster stuffing!! I've been thinking about it for over a month now! Mmmmmmm. We're having a total of 15 people over at our house this year, and this is a first for us to host. I'm pretty excited, but it will definitely be an adventure since our house is so small, and I've packed up half of the house already. Maybe we can start having it at our house every year, since next year we'll be in a much bigger house.

Only 7 more days until my ultrasound, and I'm counting down the days!!