Stats:
19 weeks
Starting weight: 155
Weight: 152
Waist @ Bellybutton: 33.5
Issues: More heartburn this week, so I guess it's here for good. :( This last week was Vegas week, but I did pretty well. I was fine on the plane and all of the walking probably did me some good. The only bad thing was in the comedy club because there was a lot of smoke. It started to make me sick and lightheaded, and I had to fan myself the whole time. I hope I didn't give Kiwi asthma or anything!
Here is my belly at 19 weeks: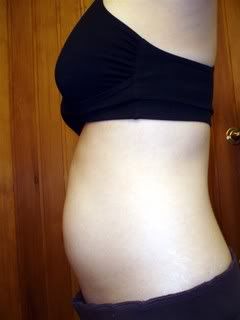 Well, I would say that I've officially popped out. Based on my pics from Vegas, I am huge compared to how I looked a week or two ago. I'm slowly gaining some weight, but still not back to what I started the pregnancy at. The slower the better! Rob is leaving in less than 2 weeks for Florida, and I can't believe how much we still have to do! And I also can't believe Thanksgiving is next week...how crazy is that? I better start packing even faster.
We've been working really hard on our projects around the house and are almost done! Before Rob leaves next Sunday, he has a few more small projects left and I'm making him pack up the whole garage. I'm not even touching it! Good thing this Saturday is our Fall Clean up day at the dump, so we are going to have to do some major cleaning and take a bunch of stuff. The business progress is poking along. Our lawyer was supposed to file our corporation yesterday, which will allow us to move forward with a ton of other stuff. Rob's last day of work is Wednesday of next week and he's jumping up and down for joy...literally!
Oh, so while I was in Vegas, I think I officially felt the baby move! On Thursday night, as I was soaking in the hugest tub ever, I thought I felt a slight butterfly feeling, but wasn't completely sure. Then on Saturday night I was laying in bed and definitely felt a strong 'butterfly' sensation, so I'm about 99% sure it was Kiwi. Yesterday I felt a few thumps too, but I'm not sure if that was Kiwi or not. It should definitely start to get stronger soon, so I can't wait until I actually feel some kicks!
16 more days until my ultrasound!!